When it comes to hair, every girl gets picky. We all love our locks as we know how important their role is in deciding our overall look. With various hairstyles, we can give our faces some definition, add inches to our height and do much more. Thus, it becomes crucial to think before you go for a particular hairstyle or haircut. For a bride, it is essential to do some homework before she settles for a hairstyle. Consider the following points before you finalise anything!
#1. Face cut
Face cut plays an important role in deciding whether a particular hairstyle will suit you or not. What may look good in the magazine or on your friend, can look horrible on your face. Identify your face cut and then settle on a particular. For example, brides with round or square faces should have bangs or layers to give their face a definitive shape, while the brides with oval or diamond shaped faces can keep their hair pulled back.
#2. The design of your blouse
Keeping in mind the design of the blouse, especially its neck, is very important before you pick up the final hairdo. If you are wearing collar neck or halter neck, a bun on the top or a half up-half down hairstyle would be perfect. On the other hand, a common bun or braid would be good for deep neck or sweetheart necklines. 
#3. The texture of hair
You must look at the texture of your hair before you go ahead with a particular hairstyle. It is true that most Indian women prefer to have silk straight hair, but when it comes to hairstyling, they are the most difficult to tackle. Go for simple hairdos if you have soft hair otherwise, your will end up with a head full of hairpins. You can go for a much – advanced style if you have frizzy and thick hair.
#4. Climate
If we think practically, it is actually the climate that has the ultimate say as far as our hairstyles are concerned. You don't want your hair to fly too much because of the air or get frizzy because of humidity. So, plan according to the climate!
#5. Measure from all the aspects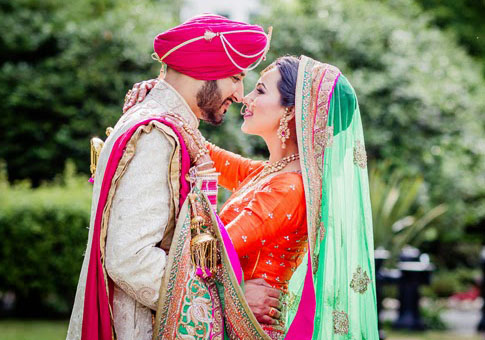 If you are a short bride, go for front puff as it will make you look taller, but if you can give Deepika Padukone competition, you might want to steer clear from adding a few more inches. Consider the heel of your sandals and the height of your partner and then decide your hairstyle. Your hairstyle has the power to add or decrease a few inches from your height. So, choose wisely!
#6. Accessories
If you want to flaunt some flowers, stones, maang tikka, passa or any other hair accessory on your wedding day, you should keep them in mind while planning your hairstyle. Design your hairstyle around your hair accessory.
#7. The length of your hair
There are many hairstyles that require a certain length of the hair. It would be difficult to have a long fish tail in short hair and pixie bun in long hair. So, get a haircut or the extensions to give your hair the perfect length for your desired hairstyle.
#8. Tolerance of chemical products
Before you say "I do" to a hairstyle, ask your hairstylist about how much spray or other chemical products he will use to make the hairstyle of your choice. Then, get the strength of your hair checked by him to see whether or not your hair can take that much amount of chemicals. You wouldn't want to face hair problems after the D-day.